Fundacja Strefa Zieleni (Green Zone Foundation) supports local, national, european and global actions in line with the ideals and the program of the Greens: sustainable development, nature and environment protection, social justice, participatory democracy, freedom of conscience, separation of church and state, freedom of medias and digital rights, responsible governance, corporate social responsibility, green economy and taxation, fair international trade, food sovereignty, the Common goods.
In Europe, the Foundation cooperates with the Green European Foundation (GEF) and other Green foundations and instituts, and with the European Green Party (EGP) and the Green/EFA group in the European Pariament, promoting their actions and publications.
In Poland, the Foundation collaborates with a number of NGOs and with Polish Green Party (Partia Zieloni), supporting activities like meetings, debates and workshops, exhibitions and other events designed to promote Green visions, ideals and political programs. We also support the independent newspaper Zielone Wiadomości (Green News, www.zielonewiadomosci.pl).
Our Executive Board:
EWA SUFIN-JACQUEMART, President of the Board (Twitter: @esufin), is graduated in sociology from Warsaw University and the Sorbonne in Paris. After few different studies and carriers, between others as a diplomat (Consul of Poland in Luxemburg 2007-2011), she is since 2012 director of the Green Polish foundation "Strefa Zieleni" and coordinates the Green Centre of the Congress of Women.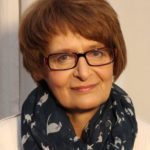 BEATA NOWAK, Member of the Board, is editor in chief of the Green News magazine (Zielone Wiadomości, http://zielonewiadomosci.pl), urban and environmental activist. Founder member of the Polish Green party Partia Zieloni (formed as Zieloni 2004) and of the Congress of Urban Movements.
To promote the Green policy in Poland, to oppose the destruction of wonderful Polish natural heritage, the state of law, tolerance and democracy, the Foundation needs your support. Citizens expect an alternative and politics turned to the future! As we get no public funding, we need money to rise an ecological and democratical awarness of Polish citizens and speed up this proces.
To support Green actions and Green publications in Poland, we need your help.
SUPPORT US! GIVE!
Send your donation to:
FUNDACJA STREFA ZIELENI, 01-822 Warszawa, ul. E. Schroegera 28
IBAN:   PL66 1020 1097 0000 7602 0237 0450
BIC/SWIFT:    BPKOPLPW
Bank: PKO BP SA,  Od. 3, Warszawa, ul.  Marszałkowska 100-102,  00-950 Warszawa, Poland